RED-E-BINS IS A FULL SERVICE BIN RENTAL AND DISPOSAL COMPANY
Price per territory $50,000
*Low up front cost*
*No franchise fee*
*Price includes everything you need to be up and running from day one*
*Waste removal is a growing 81 billion dollar a year industry in North America*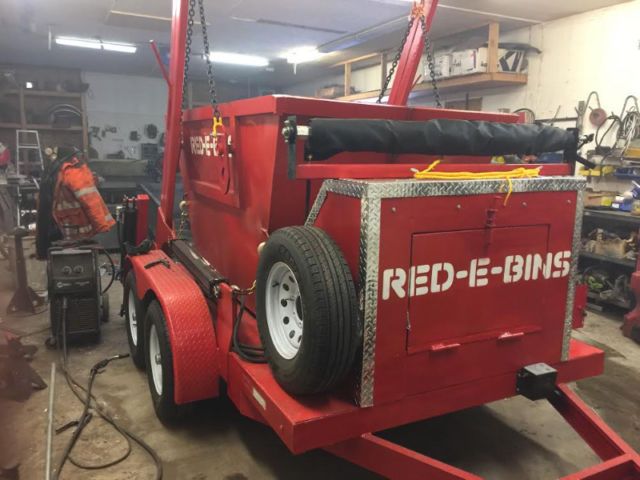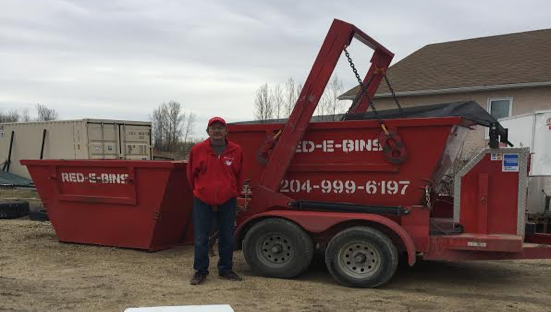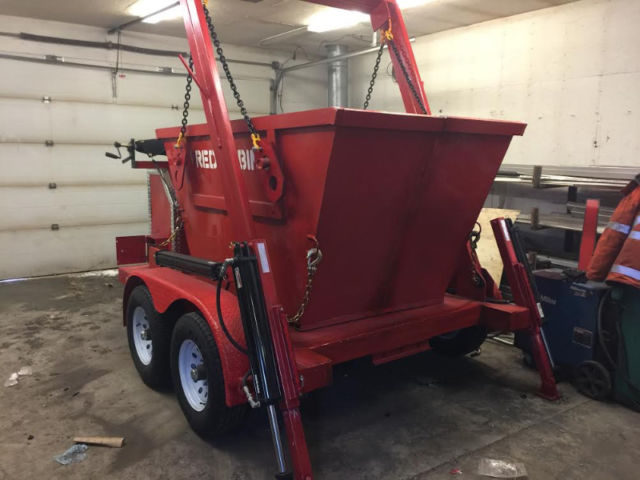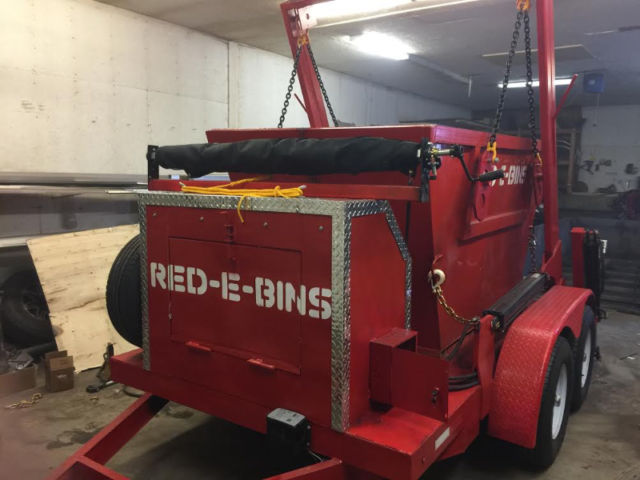 WHAT YOUR RED-E-BINS TERRITORY INCLUDES
One hydraulic trailer 9890lb gvwr
electric brakes both axles
225/15 inch tires including spare with mount
2-5200lb axles
Toolbox and tarp
Honda gas engine drives the hydraulic system
Easy to use the entire unit was designed with ease and safety in mind
All controls are in a front tool box
Fully self contained hydraulic system powered by a honda gas engine
One man or woman operation keeps overhead low
The lifting and dumping are done with the hydraulic cylinders
Hydraulic stabilizer feet in the rear keep trailer level and reduce strain on the truck
Low capital layout compared to other business opportunities in the sector
One trailer can service around 20 bins depending on location size
Three day rentals or commercial contracts weekly or monthly
PRICING
Total cost of your Red-E-Bins location is $50,000. This includes:
Marketing package, including:

Use of Red-E-Bins name and website
Trailer
10 bins (three with doors)
Uniform shirts
Lawn signs
Business cards
Hats
Flyers
Magnetic signs for your tow vehicle

Protected territories
$2,500 advertising credit must be used for local advertising can not be used as a discount
$2,500 credit towards shipping of package
Monthly cost of your red-e-bins location is $20 per bin per month we don't take a percentage of your income just a flat fee per bin per month. With our system you can purchase more bins and trailers at any time
HOW TO BECOME A RED-E-BINS OPERATOR
Contact us to see if the territory you are interested in is available and request an information pack.

Fill out the dealer application.

Once approvals have been given make a 50% deposit on your equipment.

3-4 weeks after deposit your marketing package will arrive. This will give you time to set up your phones, office and do some marketing so when your bins arrive you are ready to hit the ground running.

6-8 weeks from deposit your trailer and bins will arrive.